Together with Prof Hal Abramson, the acclaimed author of Mediation Representation, Advocating as a problem-solver in any country or culture, Toolkit Company and Manon Schonewille produced an educational video with accompanying materials.

Simulation of the Role of Lawyers in Mediation | Problem-Solving Advocacy and Primarily Joint Sessions [1]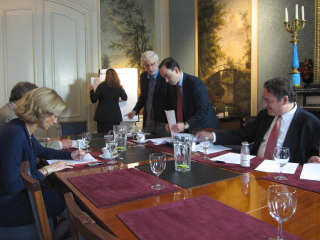 Watch the English spoken video with Dutch subs here.
CHARACTERS
Commentary and introduction Hal Abramson
Mediator: Manon Schonewille
Plaintiff GIGEM AG: Karl Schmidt (played by Willem Kervers)
Lawyer for plaintiff (outside lawyer): Alexandra Friedmann (played by Eva Schutte)
Defendant MICO INC: Peter Mc. Dermot (played by Felix Merks)
Lawyer for defendant (In-house couonsel): Chris Powell (played by Jeremy Lack)
INTRODUCTION TO THE CASE
General Background. This case concerns a cross-border mediation after a Canadian court of first instance ruled in favor of the Plaintiff in a patent infringement dispute between two competitors acting in the specialty chemicals industry. The Plaintiff is a German multinational company that is a leading distributor of specialty chemicals worldwide.. The defendant is a Canadian company that operates mainly in North America and develops personalized products for new market applications. The Court awarded an injunction and CA$ 9 million in damages in favour of the Plaintiff for patent infringement.
The Parties. The Plaintiff in this case is Gigem AG, a global market leader in specialty chemicals based in Germany. Gigem is represented by its CEO, Karl Schmidt, and by outside counsel Alexandra Friedmann. The Defendant is Mico Inc., a Canadian-based producer and distributor of specialty chemical products operating mainly in North America. Mico is represented by its CEO, Peter Mc Dermot and by its in-house lawyer, Chris Powell.
[1] © 2009-2020, Manon Schonewille as Primary Author. All rights reserved. This video and all related materials is available free of charge via the Internet anywhere in the world under the following open licence:
"OPEN LICENSE TO TRAINERS AND TEACHERS
This case (role play) was written and prepared by Manon Schonewille, who is the Primary Author of this work, and has been granted sole rights of signature by all of the intellectual property owners involved in this project. The text was adapted into a scripted roleplay for caucus-style mediation by Giuseppe de Palo of JAMS International ADR Centre, Italy for use in its EU Commission-sponsored project "Lawyers in ADR". It was subsequently adapted into a scripted role play for primarily joint-style mediation by Harold Abramson, Manon Schonewille and Jeremy Lack. The script was produced as a video in Amsterdam, the Netherlands, on September 2, 2010 in conjunctions with Result ACB and ACB Foundation. The following actors were used in that production: Willem Kervers as Plaintiff of Gigem AG, Karl Schmidt; Eva Schutte as Lawyer for plaintiff, Alexandra Friedmann; Felix Merks as Defendant MICO INC., Peter McDermot; Jeremy Lack as Lawyer for defendant, Chris Powell; and Manon Schonewille as mediator. The commentary is by Hal Abramson.
The authors, producers, filmers, editors and actors involved in this video all hereby grant a free and perpetual license to all trainers and teachers wishing to use these videos and their related published materials, as approved by the Primary Author, for academic or training purposes. These videos and materials may not be sold or sublicensed otherwise or commercially. The videos and related materials may not be used in any other manner without the express prior written permission of the Primary Author. For any questions regarding the use of these materials, please contact Manon Schonewille (manonschonewille@home.nl).
The video may be streamed and made freely available over the Internet, without compensation. It may also be used by Prof. Abramson for his books and training materials, as well as by Manon Schonewille for free.
Signed and agreed to on September 2, 2010."
Trainers or educational organisations wishing to use this video in their programs offline should contact Manon Schonewille at the above e-mail address. It will be provided free of charge as well, following approval by her on behalf of all of the intellectual property owners involved.