Toolkit Company is involved in several leading international consulting, research and training projects and has developed innovative training know-how and materials, such as educational videos and games and a range of books and other publications, which have been translated into several languages and are used in Europe, North America, Australia and in the Middle East for academic and training purposes.
Toolkit Company offers specialised in-house 'Mastering' educational programs in negotiation, conflictmanagement, mediation and mediation advocacy to individual mediators, corporate clients and leading law firms.
Toolkit Company offers training for trainers, training for assessors and accreditation programs to Dispute Resolution professionals.
We are specialized in designing and delivering full online, live facilitated online training programs. You can learn more about these exiting opportunities here.
For our Dutch mediator education to become a certified mediator, please visit our Academy Legal Mediation website.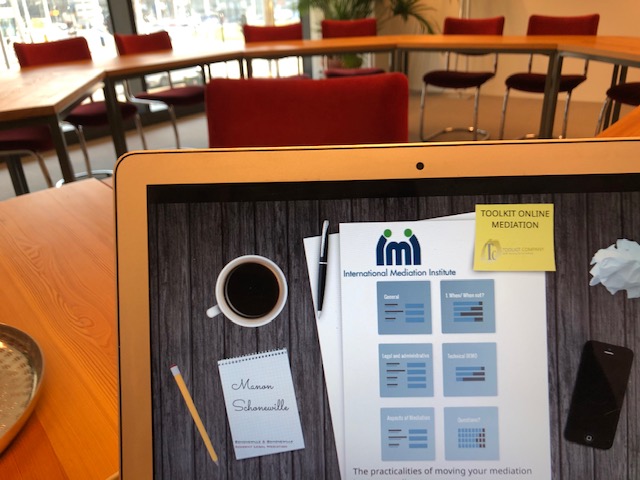 Video
Besides this we also develop and make available licensed training materials for other professional training organizations, assessment tools and academic modules, Mediator trainings for Chania and Patras Mediation Center (GR), Dispute Management (SP) and several international projects among others for the EC and WB.
Based on our extensive experience in mediation and negotiation pedagogy, the latest insights from neuroscience, second generation negotiation teaching and the newest ADR developments are included in all Toolkit Company trainings.
Please contact us directly if you are interested in learning more about our exciting programs 'Mastering Mediation™, (in several languages) 'Mastering Mediation Advocacy™, (in Dutch and English) 'Mastering Co-Mediation™, Specialization Commercial Mediation (in Dutch and English), 'Mastering Negotiation™, Negotiating with your brain™ or Generating Outcomes Using Mediation.™
Toolkit Company's recent and upcoming programs
Planned:
A specialisation course in commercial and business mediation for Swiss and international mediators in collaboration with the Swiss Chamber for Commercial Mediators as well as the Geneva Chamber of Commerce, Industry and Services starts on 9 July 2020 in Geneva. More information. Language: English.


A workshop mediation advocacy in Greek will be planned for later in 2020 in Crete Greece. Language: Greek.


The next Dutch specialisation course for commercial mediators starts October 2020 in Rotterdam. More information. Language: Dutch.


Becoming a qualified mediator and effective negotiator online, 40+ hour live facilitated full online classe, autumn course. More information. Language: English (although roleplays can if desired also be done in French, German, Dutch, Spanish and Greek). Starts end of August online.


Legal Mediation basic course 60+ hours in TC Academy Legal Mediation starts in September 2020 in Rotterdam. More information. Language: Dutch.


Panel on Mediation Advocacy at the Mediation Conference 2020 for the Hong Kong Department of Justice, one of the highlights of the Hong Kong Legal Week 2020, it will be held on 6 November at the Hong Kong Convention and Exhibition Centre.
Just finished:
Intercultural Mediation on 12 March for IHK (Chamber of Commerce) in Feldkirchen-Westerham (GER)and on 26 March for EBS, European Business School in Germany. Language: German.


Just negotiate for Accordence (USA) in London UK. Language: English.


Several workshops on moving your mediation business online (IMI, International Mediation Institute, MfN, Mediatorsfederation NL, NMv, Nederlandse Mediatorsvereniging, ZAM, NVVMA), You can watch a webinar in English here (and find useful checklist)s and in Dutch here. A workshop for the NYSBA, New York State Bar Association, on effectively representing your clients online.


9 day Training Course in Chania Crete January 8-16 2020. This forming mediation skills training meets the highest international professional and academic competency standards in commercial mediation. The training is based on the Toolkit systematic with practical reference materials. Using new pedagogical approaches to mediation and negotiation, these courses use creative learning techniques such as the popular Toolkit Board Game, as well as a Toolkit Mediation Intervention & Techniques module. Varied teaching methods like video demonstrations, real life demonstrations, exercises and case studies as well as simulations are used to accommodate different learning styles and to enhance the learning experience for all attendees, to ensure a deep and long term learning experience. Training course in Greek by lead trainer Dimitra Triantafyllou.


Online training to become a qualified mediator and effective negotiator (summer intensive May-June 2020) . You can learn more about he participants experiences here.