Specialization Course Outline | Module II
For professionals wishing to specialize in commercial mediation and/or learn how to effectibvely deal with conflict within or between companies.
55 Continuous Professional Development hours (certified by CSMC-R) *
Live trainings online with an international panel of experts in the field.
Interactive program with discussions, exercises, role-plays, real time feedback.
Individual coaching provided.
Classes from 13.15 / 1.15 PM – 18.30 / 6.30 PM CE(S)T and the 2 full days from 09.15 AM - 18.30 / 6.30 PM CE(S)T
Dates:

Introduction class: tbd 12h00-14h15 CET

Classes t.b.d.
Number of participants: 21 (maximum)
Course books (Digital and physical): Toolkit Generating Outcomesas well as Pocket Toolkit for the Commercial Mediator and Pocket Toolkit Mediation Advocacy
Optional additional performance-based assessment as an immediate follow-up (also online) for mediators wishing to become IMI certified (depending on experience).
More information here.
Fees
o Early registration (more than 2 months before the module starts): € 3'955.00/CHF 3'955.00 (not including VAT, if applicable).
Students who have taken Module 1, and Members of the SCCM and the Geneva Chamber of Commerce and Industry (CCIG) benefit from a reduced rate of € 3'545.00/CHF 3'545.00 for this module. The fees includes all training materials and a copy of the book: Toolkit Mediation.

o Late registration (two months or less before the module starts): an additional 25% will be added.
Methodology
Lectures and group discussions
Case studies
Summaries and checklists using practical tools that help to summarize and diagnose key concepts from a commercial mediation perspective (e.g., tools and techniques, steps in the process, interests and positions, focusing on different types of mediation and evaluative v. non-evaluative and a use of a revised Riskin Grid classification system).
A framework for putting cultural issues (whether national, professional, or corporate) into perspective to help prepare for mediations
Homework and reading assignments
Use of videos
Recording of lectures and own practice / roleplay including trainers feedback
Practice will be the main focus of this course. Role plays will be used throughout the course:

for plenary demonstrations (to cover all stages of a commercial mediation process, including post settlement agreement and non-settlement issues)
for group sessions to practice different aspects at different stages of a commercial mediation process, including managing tough situations.mediation process, including managing tough situations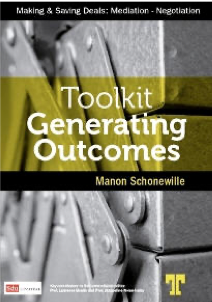 Online or offline personalized coaching sessions are also available as follow-up.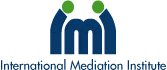 Before the Course
A questionnaire will be sent out beforehand to gauge information about the participants' knowledge, experience and expectations. People may be organized into teams based on this information.
Given the mix of participants expected [from beginners to mediators with a deep professional experience in mediation in general, as well as lawyers and in-house counsel, an initial online session of 2 hours will be offered online before the course begins.
The digital book Toolkit Generating Outcomes | Mediation - Negotiation will made available to all course participants and should be reviewed. The partcipants will also receive a physical copy of the book