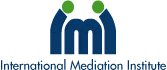 TOOLKIT COMPANY | ACB Foundation is among one of the first training organisations around the world (qap since 2012 and active training organization since 2006) to be accredited by the International Mediation Institute (IMI) to offer Qualifying Assessment Programs and to provide an internationally-recognised Qualification for General Certification in Mediation. Following completion of this online training, students will be eligible to participate in more advanced trainings with 10% discount on regular prices.
More information on opportunities for personalized assessments provided by Toolkit Company can be found here.
Follow our activities on our LinkedIn company page

While Toolkit has not yet received IMI or ADR-register certification/recognition for this novel online program. We are in the process of applying for recognition for this online training (to receive IMI recognition for mediators who are beginning their careers). You can always take our qualifying assessment program to apply for full IMI certification or ADR-registration program, in which case you will get credits for having passed this course. Please note that a certain degree of experience is required before you will be able to by fully certified as a professional mediator in most countries, and that a more complete training may require 120-200 hours, depending on what country you are located in.